Thank you Bloomsbury India for sending me a copy of this book for review. 
Feodora and her mother have been wilding tamed wolves for years now;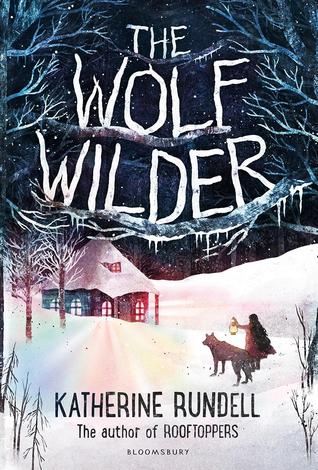 deconditioning their submissive nature and helping them revert back to being animals of the wild. Feo grew up learning wolf habits more easily than human ones and has a splendid rapport with them. Wilding wolves is more than their hobby, it encases their entire life.
So when General Mikhail Rakov, of the Tsar's army, compels them to distance themselves from the wolves; both mother and daughter are adamant about their refusal. Rakov is not used to being put down and their decision eventuates in grave consequences. Threatened by the army, Feo, accompanied by her wolves and several friends she makes on the way, are on the run to save what matters the most – their loved ones and freedom.
A magical story is told with a twelve year old as the protagonist. Never before have I read a children's book that is encompassed with so much adventure, strength of will and maturity. Children's books during my childhood seem so bleak now – lacking content and realistic portrayal of life. Feo is a ballsy character who is extremely fond of her wolves and despite how aggressive the wolves sometimes are, she never backs off or gives up on them. It shows how unconditional their bond is. The plot of 'wolf wilding' is a brilliant idea and well elaborated in the novel. Just one thing I found to be a little obstructing was the fact that even though the wolves were no longer "pets" or tamed, they still followed Feo & Ilya around. Certain of their behaviorisms didn't go well with the wild-again-wolf scenario. Apart from that, the book was a wonderful journey.
Alexei's character, though elfish and stern (at times), seemed flat. There were times he got a tad bit annoying. Whereas, the immense strength and maturity Feo shows throughout is unfathomable for someone her age. Katherine Rundell's writing is comfortable, you are able to get a vivid picture of the snowy Russian setting that she aims to deliver. I thoroughly enjoyed reading it and at no point did I feel like it was too immature or childish. As a 20 year old, I was completely able to appreciate and understand the happenings in the book. A truly great read!
Ratings – 4 stars on 5.
Meera