Thank you Simon Pulse and Edelweiss for the opportunity to read and review this fantastic book. 
Barrie Watson lived an oblivious life with her mother, knowing nothing about her familial background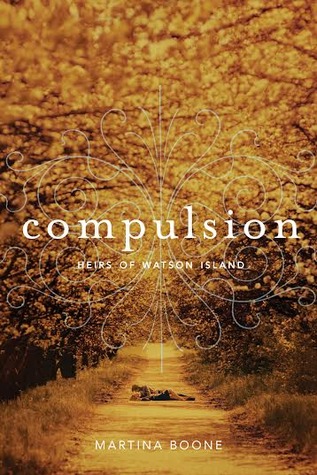 and the reason behind her mother's gruesome scars. Until after her mother's death, when she is introduced to a whole island of connections and a lonely Aunt Pru who meanders in the intimidating Watson house without much thought. Barrie is not only anxious at the possibility of new found blood relations, but is also curious about the pressing sense of loss that emanates from the other wing of Watson's Landing. What grave matters lurk beyond the door? Ought she to use the Watson gift and solve mysteries buried long ago by the rest?
Filled with magic and mayhem, Compulsion takes the readers on a thrilling ride between family feuds that are hundreds of years old and individuals who bear the brunt of their ancestor's devious crimes. As she comes to terms with a life that her mother left behind, Barrie must decide whom to trust. Between her Aunt's constant rebuttal of the Colesworth family and her own instincts to help her poor cousins, Barrie gets involved in magic that binds her to the fate her mother fled from.
This book has a mind blowing synopsis which makes you want to run out in bedroom slippers and grab a copy from the nearest store. Lucky for me I got an e-arc before the book hit the shelves. And here's the deal, the novel meets your expectations and somewhere after the middle starts catapulting way above anything you'd have hoped for. Atleast it did that for me. Barrie lived such a secluded life, yearning for Lula's (her mother) approval and not getting any, she turns to Mark, who I feel wins the award for best character hands down. He is Lula's friend and Barrie's caretaker and becomes more close to her than her mother could ever be. An unending supply of love, affection, joy from him helps Barrie pull through difficult times. The Romeo-Juliet-ish feel that is brought on by the three founding families – Watson; Beaufort; Colesworth adds a lot of drama and fun to the plot. There are sparks of interest between people from feuding families and then there are downright contempt that they feel for one another. Bring in a whole lot of magic into that and you'll see why this book is one of the best of 2014.
Two families blessed with a gift and one family bearing a curse, not only live close by but are responsible for what happens in the aftermath of the climax (which is a true nail-biter). Eight Beaufort and Barrie begin to like each other from the start which I found to be a little apprehensive but the way Martina Boone describes their chemistry, it warms you to such an extent that you start rooting for them. He is the ideal boyfriend with just enough flaws to remind you he is human. I did sympathize with the Colesworths because lets face it, their plight was brought on by what some other Colesworth fella did ages ago. But Cassie Colesworth (Barrie's cousin) being portrayed as a confident, stunning person who does have insecurities that she covers up with fabulous hair – gets to you at a point. The one reason that pulled me back from giving it a 5 star is that I felt the beginning to be a little slow paced and I started to question the awesomeness laid out in the synopsis. Also Cassie's character was really predictable no matter how sweet she was made to be. All in all, its an amazing book and I recommend it to all fantasy, young adult fans. You won't regret taking up this one.
Ratings – 4stars on 5.
Meera