In my opinion, an integral part of the new adult or adult genre is the sub-section comprising of stories about the newly-wedded.
There is an excess in novels about students and early 20-somethings trying to figure out their place in the world. But I've seldom come across books that tackle the subject of marriage without having their characters be 40-year-olds. And that's where Colleen Hoover's heartrending novel about a couple in their late 20s, whose marriage has become so strained that it threatens to rip them apart, comes into play.
Graham and Quinn said the vows almost seven years ago, knowing full well that they would continue to love each other through thick and thin. But somehow the troubles of today have blinded Quinn to that promise. And as the miscommunication drives a wedge between the two, they must confront the reality that if their saving grace is not enough to hold them together, they are very likely hurtling towards the end of their marriage.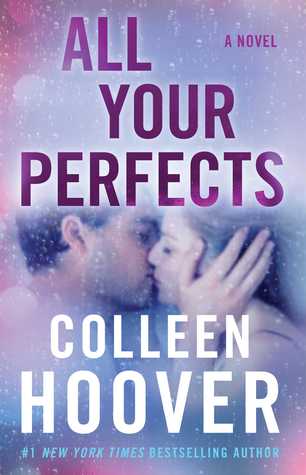 Colleen Hoover's writing never fails to tug at my heartstrings.
The people that adorn the pages of her books are some of the most realistic and relatable characters I've ever read! There is almost nothing about them that makes you feel like they've been copied off a blueprint of typical contemporary fiction characters.
While this book is all about learning to not shine too much light on your flaws, the male MC, Graham comes across as a near-perfect ideal partner. Well, almost ideal because that misdeed towards the end of the novel made me desperately wish for an undo button. I'm not going to condone that kind of behavior.
But for the majority, he wasn't egoistic or selfish or superficial in anyway. Their relationship, although predictable, was a perfect segue from the disaster that was Quinn's previous relationship. And since heartbreak is something that can very well bring two people together, I wouldn't call it cliched.
What I particularly loved about this book is that all the chapters go back and forth between two timelines – one when Quinn had just met Graham and another when they had been married for a few years.
That helps ease the genuineness of their relationship into the minds of the reader and I found myself, soon into the book, growing to love their bond.
The author's writing style is neither full of ostentatious wordings nor too simple as to take away from bringing these people and their stories to life. I was hooked to it right from the start.
Since it is an adult fiction novel, it is quite explicit in its sexual content. So fair warning to younger readers.
Something I truly appreciated about this novel is that Colleen Hoover doesn't try to make her plot cheesy or her characters deliver lines that can be construed as highly exaggerated.
When you read it, you'll come to realize that Quinn, Graham and the others are just like real people with real issues that bother them. It is convincing enough to leave you blubbering at least once. I know I shed some solid tears a couple of times in the book, not necessarily because something bad had happened, but because their love seemed so pure and so beautiful.
Looking for more such titles?
Get book reviews delivered straight to your inbox and discover your next favourite read!
Truly glad to have picked this up and chanced upon a story which addresses a medical concern that many individuals have had the misfortune of experiencing.
I do not wish to explain further because that's too much of a spoiler.
Also, brownie points for how Colleen Hoover manages to imbue letter-writing with such importance yet again. It is through letters that some of her characters single-handedly manage to "save the day".
I'd definitely recommend this book, whether you are in the mood for a contemporary fiction or not; read it, get empowered by it.
★ ★ ★ ★.5