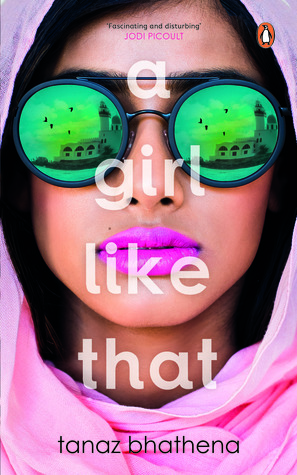 Everyone has an opinion about Zarin Wadia. From the students studying at Qala Academy in Jeddah to their parents, Zarin's aunt and their neighbors, even the teachers who are meant to guide and educate can't seem to get past their preconceived notions about the kind of girl Zarin is. They call her names – slut, rebel, ungrateful, bastard. They drown her with their hypocrisy and presumptions. But what no one tries to understand is the hurt coursing through her veins upon not knowing how her mother died or how she came to be from a girl looking for love to a girl whom everyone hates. It is only in Porus, her childhood acquaintance, that she finds some kind of a solace from this relentless torment of a life she is living. So when Zarin and Porus end up dead in a car crash, people begin to wonder about the girl that was Zarin Wadia. In this heart-wrenching debut contemporary, Tanaz Bhathena gives voice to the misunderstood and the condemned.
It has been a couple of days since I finished reading this splendid novel, but I can still feel Zarin's heartache. A Girl Like That mirrors just how toxic our world has become. By taking up the story of a girl who has been wrongfully labeled time and time again, the author is addressing the undeniable errs on our part. She tackles topics like slut shaming, rape, a harmful education system, mob psychology, coming of age etc. The story is told in flashbacks where every character recounts their association with Zarin. This novel has been written commendably. It takes a whole other level of professionalism and talent in storytelling to write about such sensitive matters with such a non-judgmental perception. And I say that because, even while narrating the stories of characters who have mistreated Zarin, the author makes no attempt to villainize them or justify their actions; but rather allows us to form our own opinions. All the stupid high-schoolers alienating her pissed me off a great deal!
Set in Saudi Arabia, we get a glimpse of what life is like there. Elements of conservatism and power mongering enable us to understand Zarin's story. She has been portrayed as a girl who has toughened herself, courtesy of all the years' worth of negative behavior she has dealt with. In her desire to disobey, to date boys, to turn a deaf ear to others, you get the sense that she is just someone who has lost her self when she lost her parents and who has been thrust into this unforgiving world that's steeped in intolerance, hate and jealousy. It is the only way she knows how to keep her head above water. The only moments I was relieved and happy for Zarin were when Porus was with her. He is such a mature, selfless and loving character. When you finish the book, you just want to go ahead and start reading it again, in light of everything you've learned.
OH GOD, I LOVED IT SO MUCH! *tears* It's, without a doubt, reread worthy. And if you haven't picked it up yet, I don't know what's holding you back. Because this is a gem of a book. It is going to rip your heart out.
Ratings – 5 out of 5 stars (AND MORE!)
What do you get out of it? A painfully beautiful narrative that throws light on just how much we wrong people when we refuse to understand them. Easily one of the best contemporary novels ever!
Thank you Penguin India for this review copy in exchange of an honest review.