Eden Rose McKinley and Bonnie Wiston-Stanley are bestfriends. Eden is as untameable as Bonnie is responsible and ambitious. They share all of their secrets with each other. Or so Eden thought. But one day, Bonnie just takes off, leaving Eden to deal with the repercussions of a world that comes crashing down around her. It soon comes out in the open that Bonnie has decided to flee with her music teacher, Mr. Cohn. While the police and Bonnie's parents are chasing every clue to track them down, Eden can't help but wonder who she is without Bonnie and if their friendship was even genuine.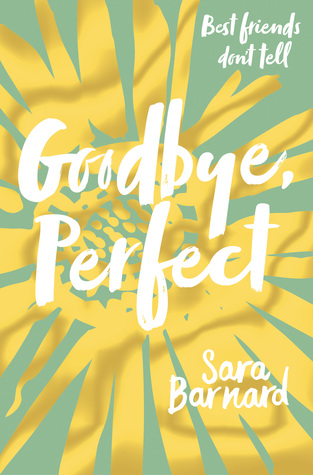 It was such a pleasant surprise to realize that this book is nothing like a typical YA contemporary. Sure it has its share of gossiping high schoolers and rebellious teenagers, but the entirety of Goodbye, Perfect focuses on what it feels like to be left behind by someone you loved and trusted the most. There are snippets of chats, newspaper articles that bind the story together. I liked the portions where Eden looks back on conversations she's had with Bonnie, which under the present circumstances help us understand what nudged Bonnie into running away. Sara Barnard's writing is neither over the top, nor too simple for the plot she is going after. It is her characterization and depiction of heartbreak that takes the cake!
The torrent of emotions that Eden goes through pulls at our heartstrings. On the one hand, she wants to support Bonnie when everyone is badmouthing her. But deep within, she harbors a sense of hurt and anger at Bonnie's reckless actions. In a way, it shows that she's gullible. Eden makes herself out to be the anti-hero, lashing out at her family and not caring about her academics, when she so clearly wants to belong somewhere, to someone. Her relationship with Connor was one of the cutest and refreshing things about this book. Some of the narrative showed just how mature Eden could be, then at other times she wouldn't be able to think rationally. The stigma of adoption, labeling children based on their upbringing, academic pressure by society are some issues that have been addressed in this novel and I commend the author for doing that in a sensitive manner. I love how supportive and warm Eden's family is, in comparison to that of Bonnie's.
Final verdict – It's a lovely book, that I would recommend to everyone who has ever felt misunderstood, or burdened or lost and to everyone who enjoys contemporary stories.
Ratings – 4 out of 5 stars
What do you get out of it? An epistolary novel that's all about deconstructing labels and understanding the intricacies of friendship, expectations, society etc.
Review copy courtesy of Pan Macmillan India