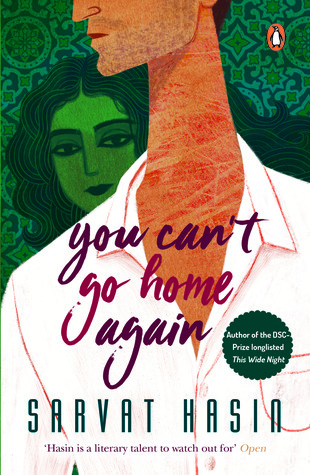 You Can't Go Home Again by Sarvat Hasin is a collection of interrelated stories that is bound to haunt you with its fluid narrative and ambiguous endings. Mostly set in Pakistan, it explores a thread of friendship and mysticism in the lives of a group of Pakistani men and women. Within the span of its 164 pages, it delves into the insecurities and desires of its diverse characters, painting an alluring picture with reality and surrealism.
When I read the synopsis, I knew I had to read the book! It spoke of a kind of mystery within a high school setting and promised stories of friends over the course of their lives. The first two stories, Dark Room and And You, the Sun were my absolute favourites. The sense of a mystery was palpable and kept you eagerly awaiting the end. But I soon realized that none of the conclusions were going to leave me at peace. They were the kind of ambiguous endings that teased you and refused to let you forget the story. One other thing that quickly piqued my interest is that one of the stories is in second person. The dialogues aren't in quotation and so they fuse with the narration to form an intriguing style of story telling.
Sarvat Hasin's writing style is graceful, peppered by cultural references (some of which I couldn't grasp). It is not all that wordy and doesn't follow a chronological structure of narration. You'll be reading about instances in the lives of Shireen, Naila, Karim, Rehan, Sabah and Maliha from different timelines. Some of the stories were a bit lackluster and didn't captivate me. So I found myself getting distracted. Although this book is a short read, the author brings out essential traits in all the characters, allowing you to form an opinion about them. Another brownie point for their characterization is that they are not burdened by stereotypes or cliches; are entirely realistic and relatable. Themes of witches, kidnapping, sexuality can be found in the book. Overall, I really enjoyed some of the stories, whereas some others were a little bland. I'm just very impressed with the way it's written.
Ratings – 3 out of 5 stars
What do you get out of it? A set of stories featuring young Pakistani individuals as they grapple with the direction their lives are taking.
Thank you Penguin India for sending me a copy of this book in exchange for an honest review.