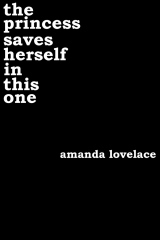 The Princess Saves Herself in this One is a collection of moving poetry that, while experimenting with form and structure, conveys the very poetic sentiments of a woman who braves all of life's experiences and hands it back to the haters. Split into four different chunks, the poems carry an assortment of themes such as acceptance, loneliness, rejection, motivation, resilience, love etc.
The title of the book was enough to draw me in. I haven't read a lot of poetry, but something about the raw emotions and out of the box structuring in this one, made me read all of it at one go. Some of the poems barely have ten words and yet, they pack a punch. The poetess has played around with shapes, spacing, grammatical syntax and created a language of her own. A language she uses to her best and appeals to the audience. I believe there's something in the collection for everyone. Her writing style is impactful and lyrical. You find yourself submerged in the world she creates.
The first section is titled "Princess" and features poetry that echoes a young voice, full of hope and affection seeking. It compels you to empathize with the narrator, as she grieves the loss of loved ones. Similar feelings surface in the next section, wherein, the narrator talks about heartbreak and lovers who never really understood her worth. But then she goes all guns blazing in the third section, which is all about empowerment and fighting back. Lastly, the "You" section showcases poetry that highlights others. What impresses me even more is the fact that Amanda Lovelace has taken the form of poetry and owned it. She has spun pure magic through her words, defying the necessity for stanzas or full stops. In a way, she has used the English language to do her bidding. The number of themes employed in this collection is just overwhelming. I would definitely recommend the book to all those who love poetry. It is definitely worth reading again and again.
Ratings – 5 stars on 5
Meera