Published by Bloomsbury India on 3rd November 2016, Selfienomics is a wonderful guide to imbuing your life with positivity and good health. First time writer, Revant, expertly employs humor and his vast knowledge of media & culture to deliver some life lessons. When  presented with the opportunity to interview him, I gladly agreed.
Hi Revant. Thank you for taking the time out to answer some questions in light of the release of your debut novel, Selfienomics.  Firstly, how did you decide you wanted to write a book pertaining to the self help genre?
I used to hate writing. In college, I always took classes which required the least amount of writing. I'm not a writer, I'm a thinker. It's the thinker in me which forced me to write. I was frustrated at the way people spent their time and money and I had the self- confidence that I could contribute in changing it.
I wanted to reach out to a large number of people. As a 22 year-old, you have 4 options to reach out to a wide audience—create a high-quality social media page, make a movie, join politics, or write a book. Social media is too over-crowded so people don't take you seriously. Movie and politics require a lot of experience and a team of people. Writing a book is the most convenient option—it requires no experience and can be done individually. All you need is a laptop (or a pen and paper). So I decided to write a self-help book aimed at improving the thought process of the youth.
During your preparatory stage, what opinions did you find most useful and how were you able to imbibe them?
I didn't tell any of my friends that I'm writing a book so nothing in particular. But I found the opinions of external people very useful.  I would extensively read the "comments" section of posts of popular social media pages like AIB, Logical Indian, Frustrated Indian. Through that I would understand the mood and opinion of the average urban Indian. I tried my best to refer to the things that Indians were talking about about to make the book relatable to them.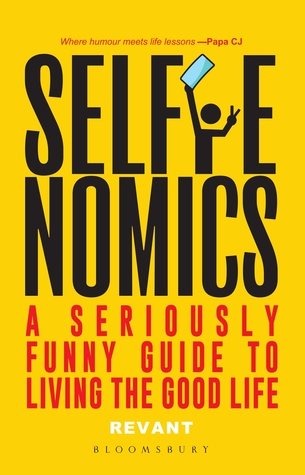 In the intro to your book, you've said that the focus of the book is self-improvement. What books or TV shows or movies have helped you, in the past, to discover and be more in tune with yourself?
Letter- "Why I am an atheist" is a letter by Bhagat singh which sparked my interest to write Selfienomics.  
 Book- When I first decided to write a self-help book, I realized that I had never read a self-help book before. So I googled "best-self help books" and I read the 6-7 books which were common on every list. 7 Habits of Highly effective people helped me with my time-management tremendously.
Movies- Swades, Rang De Basanti, PK, Kal ho Na ho, It's a wonderful life. I like the way Rajkumar Hirani combines humour with life-lessons. I feel that if Selfienomics was written by a director, it would be Rajkumar Hirani.
I like the fact that you have used humor, sarcasm and colloquial language to drive home the various points that you make throughout the book. In addition to which, your novel is structured uniquely. Were these just tools to cater to a younger audience or were you, merely, taking an unconventional approach?
Young people usually avoid reading self-help books as they find them boring and preachy. They instead read click-bait articles on ScoopWhoop and Buzzfeed (10 reasons why you must dream big…etc.) as their daily dose of inspiration.
I combined humour with philosophy to connect with the modern reader. To be honest though, when I was writing the book, I didn't think of all this. Using hashtags, humour, sarcasm and internet memes came very naturally to me.  
I am sure that it is no easy task to publish a book. A lot of research, late nights and post-publishing procedures would have been involved. What do you think about the whole process?
I read somewhere, "Publishing a book is like delivering a child. Except that its takes even longer and it hurts more".
Since no one in my friends circle or family is an author, I had to learn everything myself so it took a lot of initiative from my side. I first applied to publishers in the US who typically replied—"Where is the Yoga? No one in the US is interested to read a self-help book by an Indian unless its about yoga." 
I rewrote my entire book for an Indian audience, and then I started my publishing journey again. Overall, its been a bit more than 2 years since I first decided to write a book. As a debut author, you have to be passionate, practical and patient to see your book getting published by a traditional publisher (unless you're Sachin writing his autobiography).
Selfienomics does not disappoint. In fact, I absolutely loved it! Here's a link to my review of the book. Follow Revant on his Goodreads page here, watch the trailer of Selfienomics here and surely, grab a copy of the book.
– Meera