Thank you Bloomsbury India for sending me a copy of this book for review 🙂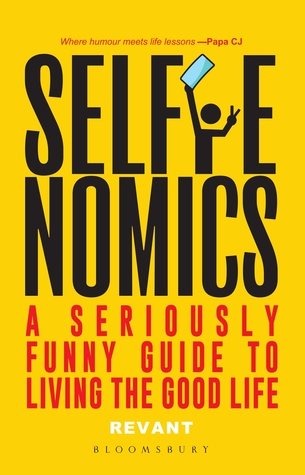 Revant's debut novel, Selfienomics, is a guide that attempts to enhance our quality of life by broadening our mental horizons. Through the span of these eleven chapters, he pays close attention to the various facets of our lives, drawing our attention towards how we could be living a more positive and healthy life. Interspersed with quotes and pop-culture references that back the various points made, Selfienomics induces a retrospective sphere wherein one is compelled to look at their perspective on matters of importance. It presents us with the information needed to make our own well-informed opinions.
Since I don't read a lot of non-fiction, I wasn't sure to what extent I'd enjoy this one. Any initial hesitation on my part, was wiped clean soon after. Revant's witticism and flair for writing shines through from the beginning. He makes use of colloquial language, generously adding tons of hashtags and Hindi words. Fear not, for those who aren't familiar with these non-English words and references, there's a glossary of sorts at the back. What I found to be unique and surprisingly, very likable is the fact that he uses several business theories & principles to explain human sensibilities. And they made total sense!
Humor is definitely one of the author's major strengths. Almost every five minutes, I was laughing out loud. While a majority of the instances delineated in the book were relatable, there were some that weren't. At one point, I thought the finance aspect got a little too much, but then out of nowhere he'd drop a little joke and I'd be clutching my stomach with tears of laughter. I love how this book employs a great deal of positive psychology elements such as good life, health, ambition etc. Moreover, its informative, so you glean a lot from it. There's a Dialogues and Discussion section at the end of a topic, which helps you get a better understanding of what has been spoken about and what your values are.
Revant makes a lot of realistic points, encouraging the readers to rethink their POV. He prods you to question everything you've learnt – be it about God, nutrition, time, jobs, society and much more. Like Derrida's theory of Deconstruction, he systematically breaks down our thought process, highlighting how we get accustomed to think the way we do. Even though there are some things I don't agree with, I believe that was the point of the book – to bring you clarity about where you stand. Overall, I absolutely loved this book. I'd read it again and again from time to time. I've probably said this multiple times before, but this book is HILARIOUS and yet it doesn't take away from the seriousness of certain issues! It is a must read for everyone, no matter your tastes in books. I urge you to pick it up right away.
Ratings – 5 stars on 5
Meera