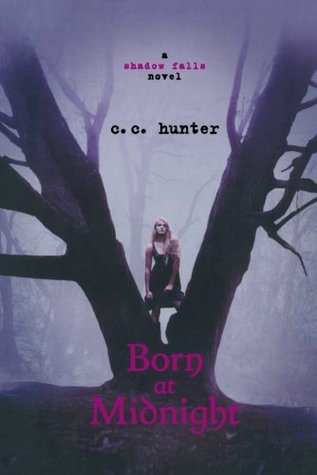 For a long time, the only thing Kylie Galen had to worry about was her parents constant bickering. She is in for a drastic change of environment when a night of partying goes wrong and her mother decides to ship her off to a strange camp. For someone struggling to come to terms with the reality that her household is in tatters, she is dunked headfirst into the world of supernaturals. But Kylie refuses to submit, she knows she doesn't belong there. She struggles with her identity, wishing she could go back home and be away from the cacophony. Even if it means going back to a family that doesn't really care for her.
This book was brimming with several cliches that have been doing the rounds for awhile now. Filled with love triangles, enmity between clans and family secrets, Born at Midnight reads a lot like many other paranormal romances, but I devoured it nevertheless. I love C.C Hunter's writing style. It was catchy and intriguing. Even though there were some things that irked me, I wanted to finish it. The backdrop of this novel is great and the way the author describes the setting, made me want to teleport there.
However, one of the major minus points, for me, in this novel was the characterization. I didn't really like Kylie a lot. She seemed very undecided for a majority of the novel – not only about her love life but also about whether she wanted to continue staying at the camp. Lucas has been made out to be the brooding, villainous character who doesn't speak a lot. Her roommates – Della and Miranda – are at each other's throats constantly, which got a little annoying after a point of time. The pace of the novel is good and peaks at the right time. I really liked the ending and I am curious about what will happen in the sequel. But I don't know if I would read it anytime soon. Overall, it was a decent book, just nothing extraordinary.
Ratings – 3 stars on 5.
Meera