The second volume of Alex + Ada picks up after Ada has been made sentient. Now that they've crossed over to dangerous territories, they must always watch their backs lest the government authorities catch them. For a while, life seems to be going at a steady pace. But then neighbors begin to notice Ada and the Government issues warnings about robots that are becoming sentient. The society becomes more frazzled as tension between humans and androids catapult. In addition to all this, a conflict of opinion threatens to drive Alex and Ada apart.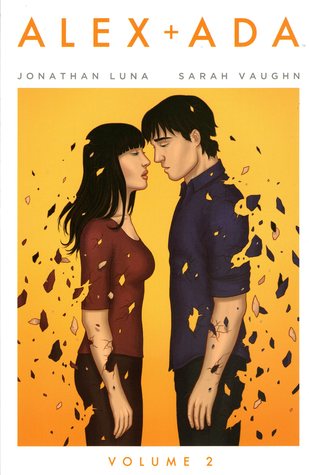 The second volume was good but not better than the first one. Alex is still struggling to get over his past, when an unexpected visitor reminds him how much he cares about Ada. The art in this volume is just as beautiful and lively as in the previous one. The symmetrical panels allow for ease of reading and absorbing everything that is happening in the scene. I read this in one sitting and thoroughly enjoyed it. Alex and Ada's relationship is predictable but that doesn't take away from the romance quotient which is added to a suitable extent. This volume is a lot more adventurous with Ada trying to pretend to be "robotic" so that people don't figure out she's been unlocked. We learn a great deal more about the company that is manufacturing these androids and the secret they've kept hidden from the government. In more ways than one, this graphic novel is allegorical of the present times – what with the rising intolerance and activist movements. It makes you realize how people don't like to accept anything that is different from them. Consequences of which can be terrible, see my review of The Giver by Lois Lowry which explores the concept of "sameness" adopted by society to avoid wars and conflicts. All in all, it is a rather fun read and I would recommend it to all scifi followers.
Ratings – 4 stars on 5.
Meera