Thank you Bloomsbury India for sending me a copy of this book for review 🙂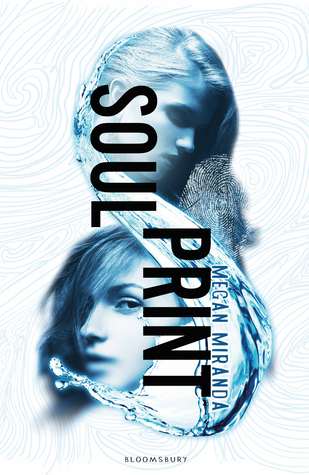 In a world where an individual is compelled to bear the burden of their past lives, Alina Chase cannot escape who she was – June Calahan, a criminal in the eyes of all. Separated from her family, Alina has been kept under lock and key on an island, where her every move is strictly monitored. People fear her, lest she resume June's work in unveiling secrets that people want to keep buried. Being contained all her life, Alina knows not what her mistakes were and grows to detest June for her current state. Escaping seems far fetched, until one day she is presented with the opportunity to live freely and she seizes it. Will her escapade grant her the life she has been yearning for, or in fleeing is she bringing herself closer to being June? In Soulprint, Megan Miranda spins an enchanting tale of souls trying to tackle a society that is hellbent on subduing those with a criminal past life, thereby encasing innocent people in a prison of sorts.
The cover and synopsis of this book are so very intriguing and I'm glad that the story is done justice. It starts off at a good pace and at no point did I feel that it was draggy or boring. While the world building is not too complex, the idea of soulprinting is interesting and made understandable gradually. As a dystopian novel, I felt that the society was predominantly passive and not as aggressive as some dystopian societies tend to get. That is probably because Alina's imprisonment was shown to the world in a different light, almost as if the government was doing her a favor so as to protect her. What I didn't quite get is that if the people wanted to see Alina happy and safe, as the author says, she surely didn't need to go into hiding. Anyhow, she displays commendable courage and strength throughout the novel and makes a killer protagonist. The adventure that she embarks on along with those who rescued her is sure to keep the reader on their toes. There is some romance involved, but not so much that it becomes  a central theme. Alina, Casey and Cameron make a wonderful triad who are always on the move, trying to stay hidden from police and on their quest for truth, they become fast friends.
It is rather unfortunate that in this world, people have to bear the brunt of what their souls did in the past lifetime. What's more unfortunate is that some people have sole access to information about all the souls, who they were, what they've done etc. This is the corruption that Alina and her friends try to fight against. And in doing so, they are made aware of a misconception that has been clouding their judgment for far too long. I have always liked books about reincarnation, so it was no surprise that I thoroughly enjoyed this one. Megan Miranda's writing style is also very special in terms of narrative and how she has mapped out the entire sequence of events leading to the climax. I wished there had been more to Ava's story, as we were introduced to Casey's twin closer to the second half of the novel. Overall, its a great book, complete with scifi and adventure. I would recommend it to all those who like extraordinary things.
Ratings – 4 stars on 5
Meera