This story takes us back to the narrator's childhood days which were filled with horrors and revelations too mature for a 7 year old. As the eldest of two siblings, the narrator often found himself completely alone, and so would preoccupy himself with books. When a lodger commits suicide in his father's car, a portal of darkness descends over him. Monsters unheard of take over his simplistic world. Driven to an extreme sense of despondence by his parents refusal to believe him and the suffocating dominion of the creature, he knows not a way out. But to his relief, as with any good story, he soon finds his savior in the form of his next door neighbors – the Hempstock women. With the help of Lettie Hempstock, the narrator assumes the role of a brave, tactical individual, ready to face every monstrosity that comes their way.  Gaiman's writing is spellbinding as he weaves instances of the past coupled with creatures that bring despair.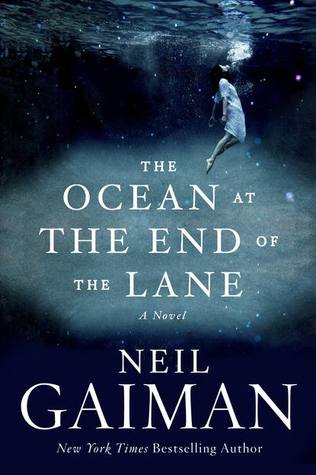 This is my second Neil Gaiman book and it was brilliant from the start. Albeit told from the POV of a 7 year old, mind you its not a children's book. We don't get a name for the narrator throughout the book and you'd think that such an essential detail being missed out is a major bother. But its not. You can still connect with the protagonist because all the emotions he goes through are so relatable. There is a kind of peculiarity in this book, that I found to be quite normal. The boy's relationship with his parents or sister isn't very great and which the creature ultimately exploits. The Hempstock women are his life-jackets; his one and only reprieve from all the chaos.
The best thing about this book is its magical nature; everything that goes on can be interpreted in numerous ways. The Ocean, I felt was a metaphor for that earthly body from which we all rise and to which, one day, we shall depart. It is that regenerative source of energy which heals us. It is this very ocean that proves useful in the story. The creatures could have been spurred on by his imagination or could stand for something else. There was so much going on, some concepts took a little understanding, others were a breeze. The narrator's sense of loneliness was so palpable. I wished he had some support from his family. The creature's logic and reason are explored in the plot too. Every bit of the book was fascinating. I thoroughly enjoyed it. Give it a try. It is one of the best books I have read this year.
Ratings – 5 stars on 5.
Meera