Thank you Bloomsbury India for sending me a copy of this book for review!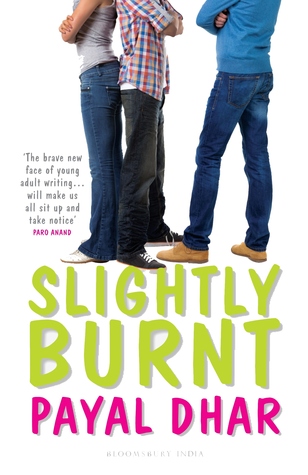 Slightly Burnt is a story of two childhood bestfriends living in Delhi, who've been together through thick and thin. Never letting the words of the aged get to them, they've had each other's back through the countless follies that mark teenage. Now that Sahir seems to have a secret , Komal is a bit apprehensive and seeks to confront him. But what she finds bewilders her beyond common sense and she starts to distance herself from the one person who knows her inside out. Amidst the drama that surely entails, her brother gets involved and soon Komal doesn't know whom to approach with the matters of heart troubling her mind.
I hadn't actually requested this book and was puzzled to find it in the mail. But the synopsis was quirky enough to catch my attention, plus its YA book written by an Indian author – something I've never tried before. Komal is your typical high school student who has her own worries about assignments, crushes, frenemies and so on. She shares a really close bond with Sahir since they were about five years old. I was actually envious of the kind of relationship that the author crafts in the novel between the two. Though they bicker like any two bestfriends would, they know everything about each other. The author's writing style was very easy to get into and made me feel really in tune with their story from the start. Its a short read of 180 pages that you can easily finish in a sitting. Even though it appears to be a little predictable, its not. It is the ending that caught me by surprise and I thoroughly enjoyed reading it. Believe it or not, I may even go back to it in between books because its a really cute and warm read. Unlike some novels, I felt that the conflict and the climax were drawn out appropriately and occurred neither too soon nor too late. The plot is driven towards promoting a liberal life, something not very common in India. That is a rather commendable fact in a novel which would be tagged YA. For people who aren't very open minded, it puts them in a complex situation and makes them think; conflicting what they believe. Two thumbs up to Payal Dhar and I recommend this book to everyone!
Ratings – 4.5 stars on 5.
Meera