I received a copy of this book from Bloomsbury India in exchange for an honest review. Thank you! 
In this fantasy retelling of Sleeping Beauty, Neil Gaiman gives the old tale a splendid twist. A far off queen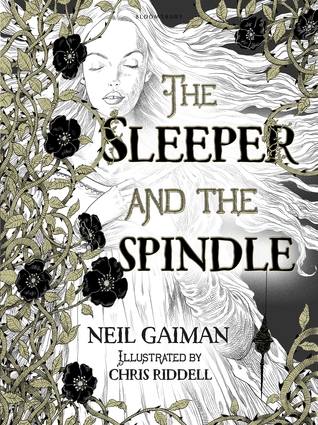 visits the sleeping princess accompanied by three loyal dwarfs which gives the illustrated story a touch of Snow White. Encased in a tower covered by branches and roses, the dark magic that bid the princess to sleep is spreading far and wide. Swiftly many towns and cities fall under the spell with every human and animal in a deep slumber. Before the whole kingdom bears the brunt of one witch's arrogance, the queen must fight her way through the wall of death which no other prince in shining armor or ambitious individual has ever crossed. While something devious lurks in the horizon, just beyond the queen's reach, the citizens so far asleep, begin to stir and chase the group of four to God knows what end.
Initially it might seem like a children's book despite what the blurb says about a "dark magic which twists and turns". But I assure you, it does appease to the mature mind too. This being my first Neil Gaiman book, I didn't know what to expect. He is a much hyped author and so naturally my expectations were raised. But sad to say, I didn't see what the others were enthusiastic about in his stories. Definitely, his writing style and adoption of a sense of doom is characteristically used to build the plot. It was nice, a little suspenseful though not thrilling enough to keep me on my toes. However I don't deny its simplistic way of addressing that "there are greater matters than meets the eye". Read by children, it will surely help them understand that even if something is considered negative, it is worthy of other's speculation and contemplation without blindly adhering to such tags. The queen is portrayed as being a strong, determined woman – definitely able as a queen – who even puts aside her wedding to address the issues of the townfolk. The illustrations were so intricate and absolutely fantastic that I spent quite a bit of time going over each detail. Particularly the printing is such (on glossy page) that you can run your fingers over the drawing in a kind of mesmerized fascination. Chris Riddell – kudos to you! I will certainly be keeping an eye out for other such illustrated books by him. Also I've decided to give Neil Gaiman another try because I refuse to believe that so many readers would consider him great if he were not. Its a short read of 70 pages that you can finish in a day, kind of predictable but fun all the same. Recommended to fans of Gaiman and graphic novels. I am going to read it all over again some time later. Final verdict being that I liked it moderately; just didn't find it so great as others did.
Ratings – 3 stars on 5.
Meera