Thank You very much Simon Pulse and Edelweiss for this opportunity to review the book. 
Afterworlds by Scott Westerfeld is a fantasy novel that takes the readers on a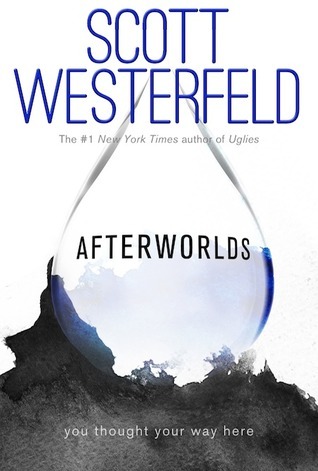 roller coaster ride between the lives of Darcy Patel and Lizzie Scofield. Simply putting it, it is a story within a story. Darcy Patel, a budding novelist is overwhelmed at the magnanimity of the book publishing process. Surrounded by famous writers and other intimidating personnel, she is uncertain about how well received her book will be, once she is able to get across the drastic measures of rewriting Afterworlds, her brain child. Putting a hold on her education, she travels to New York, keen to establish a life for herself. There she meets Imogen Gray, a fellow writer caught in the midst of her second and third book. Darcy and Imogen develop a close relationship and soon begin to live together. But in the world of print, where every day a new novel is being published and the editors seem like preying hawks – will Darcy be able to return home with success draping her every step?
Lizzie Scofield is the protagonist of Darcy's novel, whose life changes tenfold on her way back home. At the airport there's a terrorist attack and Lizzie's soul takes the brunt of the stress and trauma pervading the atmosphere. Soon she is witness to the spiritual realm which complicates her life and distances her from her family and friends. But she meets the God of Death, Yama, and is able to lean on him for support when everything else seems like a façade. This kind of knowledge brings about an awareness of the "afterworld" and its unsolved mysteries. With power comes responsibility and so Lizzie must decide whether to right all wrongs thereby putting herself at risk or let the balance of good & bad play itself out.
I don't normally take a month to finish a book, particularly one that has a plot as brilliant as this one. The idea of a book within a book – genius move by Scott Westerfeld! But what it lacked the most is a drive, an agent that pushes the reader onto the next page. Frankly speaking, I haven't been able to read more than 40 pages a day till the first half of the book. After that I flew through it, loving Darcy's experiences and yearning for the same as a budding writer. Her lesbian relationship with Imogen wasn't expected but it did come across stronger than what you'd think. Even though it isn't new, the whole "ghost whisperer" aspect worked out with the help of Yama, the God of Death as per Hindu mythology. Being a Hindu myself, I didn't quite understand why the author picked a God of Death, that too someone as fierce as Yamaraj and portray him as being soft, kind hearted and a very non-aggressive character. I was puzzled by that and at times I thought it would get mind boggling to follow two different yet interwoven stories,  but it was actually fun. Scott Westerfeld's writing is really easy to follow and it gives you a vivid image of exactly what he is seeing in his mind which was a plus point. I could see Lizzie walking around the flipside with Mindy, the friendly ghost. I only wish it was a little more compelling and fast paced. Apart from that it is a decent read. I don't know if I would recommend it to everyone but fans of the supernatural, grab a copy, see if it works out better for you than it did for me.
Ratings – 3 stars on 5.
Mia