This was to be my third book for BOB readathon. Anyhow, it definitely is one of my 2014 favourites. Oh Sacred Mother, how I loved it! xD
Being a high school valedictorian definitely has its perks and Cara Sweeney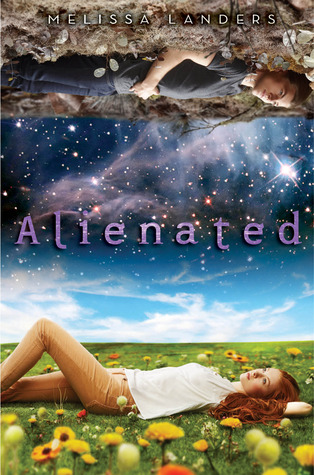 will stop at nothing to ensure that she attains the post. But babysitting a L'eihr exchange student? Not something she'd signed up for. Apart from her boyfriend and bestfriend's sworn hatred towards L'eihrs – beings from the planet L'eihr – Cara too must make some sacrifices to go ahead with the exchange program. Nevertheless the scholarship money is good, her blog stats are booming and Aelyx, himself is a reserved but cordial exchange student. So what could possibly go wrong?
Trying to get him habituated to life on Earth proves to be harder than it sounds when her own life is threatened by the anti-L'eihr masses. A not-very-touchy-feely Aelyx is horrified by the mannerisms of Earthlings. However, he and the two other students from L'eihr must endure the hardships so as to get acquainted with life amidst humans and further the alliance between Earth and L'eihr. Or so it seems. Gradually he and Cara begin to care for each other. And when this realization strikes him, its too late to undo the devious measures he took during his stay at the Sweeney's home. Now its upto Cara to identify where her heart belongs – with her family and her home that is soon to be endangered? Or with an alien being who hides more than she'd ever have assumed?
Melissa Landers, I bow to you. This author has done a fantabulous job with Alienated. She has created so much more than just another planet and a race of beings. Her tale of two diverse worlds captures your attention in such a way, you wont put this down even if you were being outrun by your town folks. I found her bestfriend, Tori, and boyfriend, Eric, to be a little fickle minded. Their hatred towards someone they don't know is not justified. But as much as you want to punch them, they are integral to the ending of the novel. Also by the end of it, I feel that Cara's loyalty is questionable. I won't say more about why but you'll know once you read the book. Cara's family is very welcoming and they go out of their way to make Aelyx comfortable. The novel has a good proportion of hilarious exchanges. The language very colloquial and learning about a new planet,L'eihr, was truly enjoyable. I assure you, taking up this book won't let you down. So get to it ASAP! 🙂
Ratings – 5 stars on 5.
Mia