Here's a headstart – If you are an emotional person, you are going to be bawling your eyes out, by the time you finish this show.

Gu Family Book is a drama featuring Lee Seung Gi and Suzy who bring to life the characters Choi Kang Chi and Dam Yeo Wool. Though the drama is a lot about other subsidiary characters as well, these 2 are the thread that brings the whole show together. It starts with a flashback about Kang Chi's  father, Wol Ryung, a 1000 year old mythical being (gumiho) and how he finds love. Fast forward to the present and 20 year old Kang Chi was adopted by a noble man Park Mu Sol when he found Kang Chi abandoned (as a baby) in a river. Kang Chi grows up to be a fine man under the loving guidance of Park Mu Sol who is more than a father to him. Mu Sol's 2 children Chung Jo  and Tae So share a very close bond with Kang Chi and all's well except for the mother who dislikes Kang Chi. The secret being that the monk who convinced Park Mu Sol to adopt Kang Chi had told him to ensure that the bracelet doesn't come off until Kang Chi is 20 years old. This was to prevent the mythical gene from surfacing and so Kang Chi could remain human. But ofcourse that doesn't happen!
By some unfortunate incident, Mu Sol gets killed by the former Assistant Minister Jo Gwan Woong who is the villain.  Now Mu Sol was well acquainted with the former Sheriff Dam Pyeong Joon who undertakes to train Kang Chi. A devastated Kang Chi seeks residence in the sheriff's Martial Arts School, trying to keep his mythical side under control and take back all that is lost. In the time being he becomes close friends with Dam Yeo Wool (Pyeong Joon's daughter).
From there, begins a journey of love, indecision, patience, rejection and judgement.
This is not even half the story. When I sat down to review the drama, I realized how difficult this task is. There are so many elements in this drama that it's not easy to cover everything in a somewhat-short review 😛 I tried to bring out as much without a spoiler in it. Every character, every sub-plot was crucial to give the show a more thorough meaning. If I could sum up this show in one word, I'd say it was BEAUTIFUL. I loved every aspect of it. At the end, I was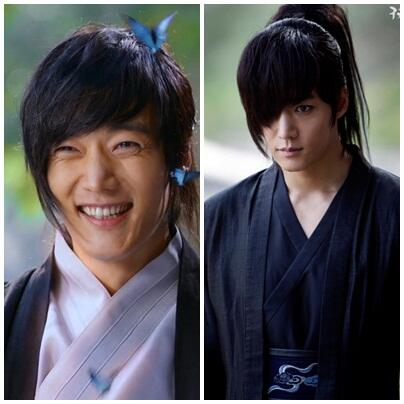 so overwhelmed with emotion that I couldn't figure out if anything was lacking/wrong in the show. It literally tugs at your heart strings and leaves you bewildered at the magnanimity of ideal love portrayed. Suzy is one of my favourite Korean actresses and she plays a very cute-yet-fierce character in this one.  Yeo Wool's bold and sacrificial nature is truly inspiring. And oh! The love triangles. OMG. There are so many love triangles!! At times, it's so sad, the fact that love is not reciprocated.
There are many twists and turns. You would not believe a lot of stuff that happens! They just keep adding spice to the story at all times. Its well paced and spread out – not too rushed or anything. Especially for the complicated plot, 24 episodes is a job brilliantly done! I wish I could say more about the characters and story. However I don't intend to write a book so I shall stop here and urge you to watch it ASAP! 😀 A MUST WATCH!
Rating – 8.5/10
Mia